We have previously described the many difficulties we have faced over recent months. It took us along time to settle back into African life after our amazing Australian trip.
Science Teachers
Making Progress at a Development Meeting
Hekima
End of Another Day at the Chalk Face
The difficulties continued, and the lack of communication between Sister Esther and us did not improve. Babs continued with her teaching duties as well as extra practical sessions with Form IV students who were fast approaching their National Exams. John persevered with his work with Science teachers, and in all schools, except Hekima, was beginning to see a consolidation of his work over the previous few months.
The first term ended with just over a week of exams - the second set of the year for Form I, but the third for Form IV who, by the end of their nine months at the school, will have had seven such sets. It is considered that this is the only way to keep students working; sadly, there is rarely the opportunity to go over the exams and use the experience constructively. The huge amount of marking was completed, followed by the usual panic of assembling marks and producing results. Every exam is marked out of 100, but marks are not standardised; there is, inevitably, a wide range of scores, translated into grades with 81 being needed for grade A and a pass mark of 21 for a grade D. John put some procedures in place and was able to initiate some training for a few staff.

Term was due to end on the Friday, and there was an assembly in the new Hall for the whole school on the Thursday evening. Among other announcements, holiday return date was revealed, but the main purpose of the gathering was to announce the term's results. In rank order, every girl had her name read out, together with average score (to 1 decimal place) and position, and she had to come to the front and line up, facing the rest of the students, as everyone clapped. This started with Form I students - all 164 of them, in batches. That was until we got down to an average of less than 50; we both continued clapping, but were told, in no uncertain terms, that "we do not applaud failures"! The remaining girls, about a quarter of them, had to come up in silence, then all turned to face the staff and Sister Esther lectured them about not working hard enough. More humiliation!! The tears and body language said a lot. We weren't brave enough to walk out, but if we had known what was in store, would not have been part of the event.
Many of the girls left early the next morning, before it was light, and we were there to wave them off; buses had been ordered and they ran a shuttle service into Bukoba. However, Form IV students remained - they were to have remedial teaching, to cram more into them, and would not be able to leave the school until after their National Exams in October. They had a special timetable of at least five and a half hours a day in 2 or 3 subjects each week, followed, inevitably, by exams.
Because we had used up all our holiday entitlement, we did not expect to be able to have any more time away. However, when the schools closed for their mid-year breaks, Hekima only had Form IV students & a couple of teachers. We had plenty of work to keep us busy at first, but, after 3 weeks, we decided to just tell the relevant people that we would be taking a 2 day break!
The Beach at the Yaasila Hotel
There's a Hippo in there - Honest!
We booked into a hotel in Bukoba, on the shores of Lake Victoria, and had a very interesting couple of days.
Our Holiday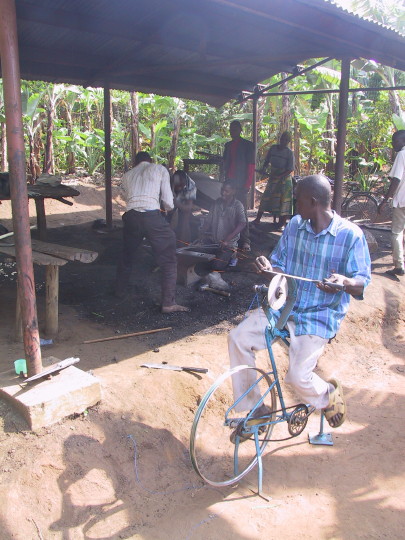 The Iron Works
Our Holiday
Babs with Tea Plants
Our Holiday
Tea Factory Machinery
Our Holiday
John at the Waterfall
We visited the nearby museum of the local Kagera region, saw a co-operative of local craftsmen recycling metal into a variety of products at the Iron Works, visited a Tea factory, & had a picnic by a lovely waterfall in the forest; finally, we paid a thought-provoking and humbling visit to an orphanage - one of many in and around Bukoba - and saw something of the reality of life in Tanzania.
Bukoba Orphanage
The Children
Bukoba Orphanage
Round & Round the Garden
BUDAP
A Haya Drum in the Making
Rachael, one of the short-term VSO volunteers, was working with a group of disabled adult craftsmen & women at BUDAP, the Bukoba Disabled Assistance Project. So we also visited their workshop, had a guided tour and watched them at work making traditional East African drums (ngoma) of the Haya tribe, other musical instruments and bags. You've guessed it - we bought a drum, and decided to worry about how to get it back to England later! The skill and craftsmanship was amazing and they loved showing us around; we don't think they were used to people asking so many questions though - John likes to know the finest detail!
BUDAP
Babs Helping to Make a Haya Drum